Google Search Generative Experience integrates Search and Shopping Ads
As expected, Google Marketing Live 2023 was full of use cases for how we can leverage generative AI for advertising. Today, Google showcased some experiments for how its Search Generative Experience is integrating Search and Shopping Ads into conversational mode. So what does this look like and what does this mean for you?
Ads are being tested directly in the Search Generative Experience
Announced at Google I/O this year, Google shared how some loose plans on how ads could be integrated into the experimental Search Generative Experience; it's new generative AI search experience. Today at Google Marketing Live, they shared some more specifics.
Sponsored shopping results are embedded into SGE and remain at the bottom of the results page
From what Google shared, it appears that Ads will feature more natively in the new experience alongside generated content and free shopping results. The usual shopping experience looks set to remain at the bottom too, which doesn't look too different to today. 
The experience will also have a similar feel on Desktop shopping results
The updates shared at Google I/O showed us how the desktop results would appear. Today, we can see how shopping ads will feature on Desktop.
Search Ads will also appear on the SGE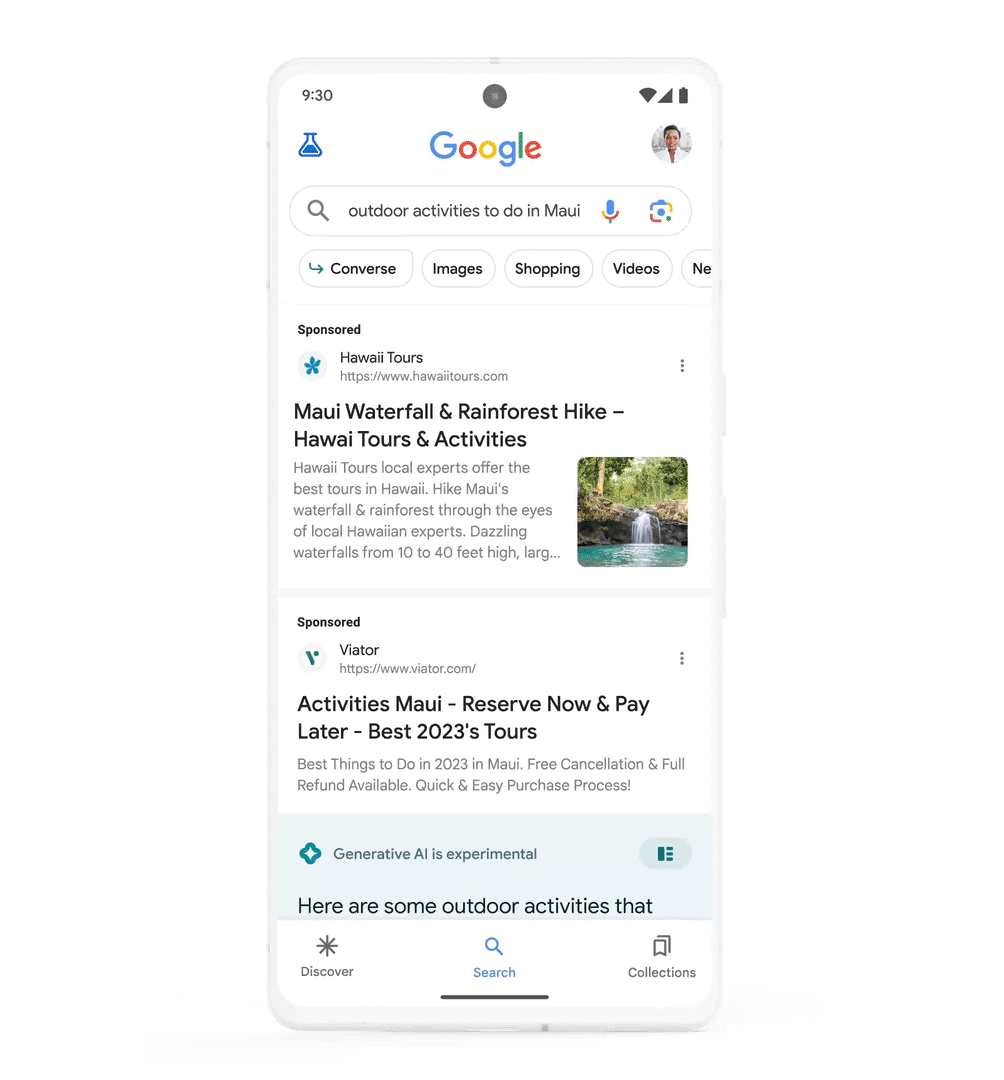 Engaged once in conversational mode, Google has demonstrated how Search Ads could be incorporated into the Search Generative Experience. In the above example, you can see how the search term 'outdoor activities to do in Maui' triggers an ad at the top of the search results page, and then the Generative AI experience underneath. Following the 2nd prompt, which engages conversational mode, Google then surface not only Shopping Ads but also Search Ads. 
What does this mean for you?
If you run Paid Search, it's a pretty exciting time!
The above looks positive for advertisers. It is clearer how ads will play a part in this new experience. But let's remember this is only an experiment. You will only be able to see these results in the US (for now) and if you have access to the Search Labs. You also don't get to see SGE results separate from your other campaign data. All in all, you are unlikely to notice any difference for now until this gets rolled out further in the coming months. For now, all you can do is make sure your accounts are following Google's best practices of Search + Performance Max = Power Pairing as well as the newly launched AI Essentials. 
If you run SEO, don't panic. Your role is more important than ever
Contrary to some of the hubbub, your role as a search engine optimiser is still vital to being able to get your results to surface in this new experience. Do not believe the hype. I like Neil Patel's summary here for what this means for those in SEO. Yes, you are likely to see a drop in visits to your website as a result of some of this. But this could drive overall engagement to Google up as it becomes even more useful for users, so ultimately you could see a benefit. Also, let's remember that these generative answers need your content to get answers. Google isn't going to starve off its food for generative AI anytime soon. Our roles are changing, but have faith in the fact  that your role is actually more important than ever in this new experience. 
Keep an eye out for our other Google Marketing Live 2023 updates
Latest posts by Dan Roberts
(see all)
---