Google Adwords Recommendations Page replaces Opportunities
The Opportunities tab is being renamed as the Recommendations page in the new AdWords experience. According to Google, the new Recommendations page has a faster load time, 16 new recommendations, and uses Google's machine learning technology to help you act on insights to boost campaign performance and save hours of manual work – all from a single page.
Sounds good, but what does this recommendations page mean for you? We'll explore everything you need to know and leave you with some actionable insight for your own campaigns.
---
The hubbub
Google Adwords Help – Improve your account with Recommendations
Search Engine Land – Notes are coming to Adwords, plus Recommendations & an Account Performance Score
---
New Recommendations Page for the new Adwords experience
According to Google, the recommendations page is an entire section of your AdWords account that is purely dedicated to helping you improve your campaigns. Recommendations from here can introduce you to (what Google deems as) new, relevant features, help you get more out of your budget by improving your bids, keywords and ads and can work to increase the overall performance and efficiency of your campaigns.
As with any recent Google Adwords update, all of the new features are being released exclusively in the new Adwords interface. So what's changed, and how has it evolved over the years?
---
Evolution of the Recommendations Page
We've had the Opportunities tab for a while, it's certainly evolved a lot over the years. From ideas, to opportunities and now to recommendations; Google is being more committed and confident with it's ideas due to it's advanced machine learning capabilities. Just look at how it's changed this tab's name from 'Ideas' to 'Opportunities' to 'Recommendations'. It's basically gone from 'here's what more you could be doing' to 'we think you need to be doing this, dumbass'.
It started in 2009 when Google released the Beta in the US to give advertisers opportunities to help find additional cost-effective traffic for your search campaigns. It was touted as your "personal Adwords Assistant" and Google were pushing this to be the "homepage for your account optimization".
This then expanded further over the years and eventually had a much needed revamp of the interface.
It later became easier within the UI for Google to surface opportunities to answer questions such as "What more can I do to improve my Adwords performance?"
The user interface continued to improve and eventually remained pretty similar for a couple of years in it's looks. But Google kept shoe-horning in new opportunities for advertisers to exploit within the old Adwords interface.
And now in the new Adwords interface, Google gives us the Recommendations Page.
---
What are some of the new features on the Recommendations Page?
The interface has been updated
You'll now see this tab renamed on the left hand side under 'Overview'.
And once you have clicked onto it, you'll now notice Google surfaces more information than ever in an easily digestible and actionable interface, as above.
We have some focus with core categories; Repairs, Bids & Budgets, Keywords & Targeting, Ads & Extensions
Ads and extensions
'Ads and extensions' recommendations help you refine your ads, create new ads, show your best ads most often and organise your ads into better ad groups. Ad Extension recommendations should help maximise the performance of your ads and can improve your ads' CTR.
Keywords and targeting
These 'Keywords and targeting' recommendations can help you reach more people who are interested in what you offer. This means that you can Add new suggested keywords, add new audiences, remove redundant keywords and also non-serving keywords to help make your account easier to manage.
Bids and budgets
'Bids and budgets' recommendations can help you get more impressions and clicks by surfacing bid strategies to utilise, suggesting bid adjustments, changing campaign settings and more. According to Google, they may also help you to improve your Ad Rank by suggesting Top of Page bids etc.
Repairs
'Repairs' recommendations help you fix issues with your account and improve the overall health and performance. This can be anything from highlighting any ad groups that may not have ads, to suggestions on how to improve your mobile site.
Coming Soon, you will also see 'Ad Suggestions'
Ad suggestions are variations of your existing ads that may boost the performance of your Search Network campaigns. Ad suggestions initially surface in your account on the Recommendations page for you to review and you can choose to apply or dismiss them. Google say that this takes the best of your existing ads and marries this with it's Machine Learning to create new variations that you can add into your existing activity.
Top Tip
Ad suggestions marked as 'auto-apply' will start serving after 14 days automatically if no action is taken, so be careful! Learn more about ad suggestions.
You can get a full breakdown of the recommendations you can see on the recommendations page via Google Adwords Help.
Account Performance Score
The new Recommendations page will also see the addition of an Account Performance Score which is expected to launch within the next few weeks. The Account Performance Score will be a visual representation of where the biggest optimization opportunities are and where advertisers should focus their efforts.
You might remember a similar section being in Beta within the old Opportunities tab in the old Adwords experience called an 'Account Health Score for Search'.
The Account performance score will be weaved into the Recommendations page to highlight the key recommendations to boost your performance.
---
What does the new recommendations page mean for you?
This really depends on which perspective you are looking at.
Google's Perspective
Helping advertisers drive better performance from Adwords. For us, if we can prove to advertisers that they can get more from Adwords then their results will improve and their confidence in our Machine Learning capabilities will also improve. If we can convince them of this, and make it easier to do so, then we'll make more money in advertising revenue. Mwahahahahaaaa
Advertiser Perspective
Whilst we like the new recommendations, the cynic in us questions how much trust we can give to Google with our advertising budget. I'll probably use this tab to audit accounts, but may not implement many of the suggestions. If I'm Agency side, this could help relieve a lot of the manual tasks we carry out. But equally it could call into question the role that agencies are having to evolve when it comes to activation. If i'm Client side, this gives me much more visibility on new opportunities on the account.
Overall, I think the new Recommendations Page is going to be really useful for everyone.
Why not embrace Google's Machine Learning capabilities to help make the manual tasks we have to carry out easier? Stop being insecure about your perspective and start to think of how much time you'll have to focus on driving your campaigns forward through a kick-ass strategy.
Yes you could argue that it takes the power away from the advertiser and puts it firmly into Google's machines
This is particularly true with 'Ad Suggestions'. Many of us feel uncomfortable giving the optimisation powers to Google. How do we know that the changes will actually make a positive difference to performance and that it's not just a way for Google to simply increase their ad revenue?
Adopting Machine Learning is uncomfortable for most. We have to remember what we are here to do as advertisers; that's to drive the best performance possible from the budget we have. Simple.
If Machine Learning helps us to do that, then stop being a chicken and at least test it! Otherwise, you'll risk being left behind.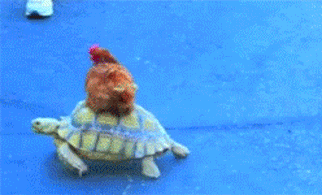 Latest posts by Dan Roberts
(see all)
---