Year in Paid Search 2017. What's on the horizon for 2018?
What a year this has been for Paid Search. 2017 has seen everything from changes made to Exact Match, to Google being fined by the EU for being naughty with Google Shopping.
We'll review the year and take some time to stargaze into the future to try to identify what we might expect in 2018.
---
Contents:
2017
2018
---
What happened in 2017 for Paid Search?
The themes this year focused on three core areas; Intent, Data and Machine Learning
All of this is underpinned by the idea of Micro-Moments; finding the right audience, at the right time, in the right place. By understanding the user intent, by using more data and using machine learning to take action with this data; advertisers have seen some real success in 2017.
---
Understanding User Intent
Using multiple search signals to drive performance has been key to success this year. Google & Bing looked at user intent to either give us new products or have changed their existing products.
Search Results have had a facelift 
User intent and the way that they interact with Search has changed dramatically this year. Search Result Pages have therefore needed to adapt across all devices. Google seems to have found a layout it's happier with and that users respond better to.
Desktop SERP Changes – Jan 2017
Mobile SERP Changes – March 2017
Curved Mobile Search Results  – November 2017
New Ad Label – Changes to Green – March 2017
Mobile becoming more visual with visual sitelinks – Dec 2017
Keywords getting broader, forcing users to a more Audience way of thinking to find the efficiencies. This is only the start of some fundamental changes to keywords
Changes to Exact Match kicked in earlier in the year which caused an uproar.
This forced advertisers to apdopt other ways to help drive the efficiencies and to target the right people i.e. through Device Bid Adjustments, Audiences etc.
The "Exact" Match – March 2017
Ad rank threshold changes – May 2017
Ad Copy and Ad Extensions – more space to make it more relevant to the user
We've seen the biggest change to Ad Copy ever this year become mandatory for all advertisers. We've also had access to more ad extensions than ever, predominantly across Mobile. All of this is to give advertisers more space to help answer their user's questions better.
IF Audiences or Device – Feb 2017
Expanded Text Ad deadlines extended – Jan 2017
New Ad Formats – Aug 2017
More Sitelinks – Aug 2017
Mobile ad extension shake-up – Aug 2017
We got more Audiences to target. This helped to shift Paid Search away from only using Remarketing, to finding new customers to target through a broader Audience approach
Audiences in Paid Search aren't just about remarketing people who have already visited your site, but it's also about understanding the people that haven't yet visited your website. You can now use Similar Audiences and In-Market Audiences to understand user intent and the context to which they are in; thereby giving them a more relevant experience.
In-Market Audiences – June 2017
Similar Audiences for Search and Shopping – May 2017
---
More Data than ever
More Reporting & Data; the trade-off for accepting automation?
Some advertisers feel as though the power shifts have changed from Advertisers to Google's automation and Machine Learning. By giving us more access to Data and making data more transparent, is this the deal by investing more in automation?
We also saw Google launch Google Attribution, as well as more visibility of data through Shop Visit Conversions.
More access to Quality Score metrics – April 2017
Historical Quality Score – May 2017
Google Marketing Next – May 2017
Segment your Shop Visit Conversions for deeper insight – Sept 2017
Adwords Next rolls out to all advertisers – Oct 2017
Top spot impression share for Google Shopping – Aug 2017
---
Powered by Machine Learning
Power shifts. Less control for Advertisers, more for Google. But it's helped drive efficiencies
With Google giving us more machine learning capabilities, some advertisers felt as though they were losing the control they once had over their marketing campaigns. This was especially true when Google announced that it could now spend up to twice as much as your daily budget on campaigns if it felt as though there were more in-market customers available to go after.
Purchase on Google – December 2017
Spend x2 your Daily Budget – October 2017
Maximise Conversions Bid Strategy – June 2017
Bing ads maximise clicks bid strategy – November 2017
Ask Google Analytics a Question – July 2017
Streamlined campaign settings – Optimise or Don't – Sept 2017
Bing launches new intelligent search – Dec 2017
More keyword bid solutions – May 2017
---
More pressure on Google's dominance
It hasn't come easy for Google though. This year they have not only seen tough competition from some of it's direct competitors, but also from the EU. Some of this has resulted in fundamental changes in the way it operates in the EU as well as changes to it's products and services.
Amazon playing Google at their own game – Jan 2017
Apple Search Ads – April 2017
Google fined by EU – June 2017
The rise of Bing – Dec 2017
CSEs compete head-to-head with Google – Sept 2017
Apple defaults to Google – Aug 2017
Bing ads automated imports – Jan 217
---
---
What can we expect for 2018?

2018 will be focused on;

Voice, Data, AI and Machine Learning
More Keyword targeting changes?
Will we see more keyword targeting changes? There has been rumours for a while that we could be getting a dynamic keyword match type, similar to how Dynamic Search Ads work. With Google pushing us more towards an AI way of working, there's no doubt something like this will become a focus for 2018.
Search Results pages will carry on evolving, with Mobile continuing to lead the way for change
We will probably see the Desktop search engine results page be tweeked more in line with what we have seen in recent months with Mobile's new curved boxes. Any new changes though will always be made on Mobile first and then replicated onto other devices later.
Search will become even more Visual
Will we see Video Ad Extensions in 2018? Mobile is making search more Visual and authentic. There's no doubt Google have more up their sleeve to make the Mobile search results more engaging to it's users.
Competitors to Google will continue to push their share of the market
As Google continues to dominate the search landscape, it's direct competitors will continue to deliver more credible options for consumers to turn to. Bing Ads has never seen so many updates and improvements this year, and Amazon's successes with Amazon Echo and it's Advertising Products are helping it to continue it's trajectory.
Voice Search will continue to grow. Will we see ad formats for Digital Assistants?
It's been talked about for a while and something that Google is no doubt working on behind the scenes. The big question remains, how do they monetise Voice Search via Google Home? Anything that get's launched will be a super small test. The risk of getting it wrong could be catastrophic for Google. Perhaps introducing specific formats for it's Digital Assistants embedded into phone's would be the most comfortable place to start.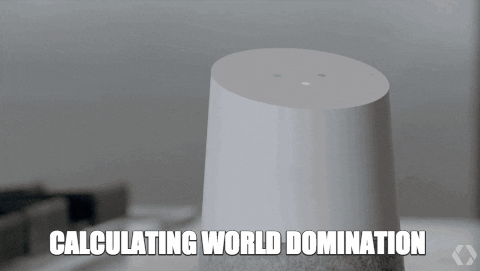 Will we see more reporting to further understand Voice Search?
In order to get more advertisers on board for utilising the power of digital assistants, search engines will have to give us more insight. Could we finally start to see this level of reporting in Adwords? Wouldn't it be cool to see specific Voice Search Queries in SQRs from Digital Assistants.
More artificial intelligence and machine learning will see a shift from understanding your consumer behaviour to predicting it
Google's machine learning and automation will continue to improve. At the moment, it's being used predominantly to make your spend more efficient. But it can do so much more than this.
Humans that don't adopt some of this artificial intelligence to help make decisions will get left behind. Remember, you'll always have to mix human intelligence with artificial intelligence. Embrace it!
---
Key takeaways for 2018
2017 was about understanding how best to connect data to understand consumers better through intent and more data. This year, marketers will have to put consumers firmly in the centre of everything they do through personalisation at scale. You'll need to be there, be useful, and be quick to keep ahead of the curve. Change is only going to accelerate in 2018.
1. Embrace Machine Learning
This can work wonders alongside human intelligence if mixed together well. There's a real misconception that you can let machine's run your account without having to worry about it. That's not the case. Best use cases of Machine Learning see Human Intelligence intertwined with this. Remember how Google's DeepMind beat Lee Sedong at the game 'Go'? Lee said afterwards that despite losing, Google helped him to see new strategies to win in the future. Machine Learning an AI can enhance what Humans are doing.
2. Make more use of your Data
We have more data than ever now to make more effective decisions. The data will tell you what you need to do. You'll need it more than ever in 2018. Remember that GDPR rules come into play in the EU for 2018 too.
3. Focus on the moments that matter most
Identify what moments you want to own, and seize the opportunity to own it.
In a world that is quickly becoming more voice activated and digitally assisted, the advertisers that are going to win are the one's that focus on their Brands. It's now more important than ever to fully understand what impact every penny spent through your marketing budget is having on your Brand. This is where Data Driven Attribution (DDA) and Google Attribution can really help you to understand your digital investment.
4. Seize the opportunity that Voice Search is giving
It's a blank canvas. Those that will be successful will be the one's that have started yo understand what they need to do to adapt their search strategy. Make sure you capitalise on this and you'll be lightyears ahead.
Latest posts by Dan Roberts
(see all)
---